Our idyllic fishing village lies in the southeast of the beautiful and is 25Km away from the capital of Corfu. Apart from the mass tourism, the romantic village offers all the shopping facilities, cocktail bars, and taverns; some evenings Greek dancing parties also take place. Petriti, with its delightfully harbor for fishermen, early in the morning or in the evening is crammed with all ages fishermen. It is interesting to observe how big fishes are caught; the big nets become outspread, and then is collected together as 100 years ago.
Petriti, with only 700 inhabitants, was called in Ancient Greek Egrypos. Egrypos is deduced from "Ev-rous", which means good river-course, because in the region always existed a lot of water.
Egrypos lies among the green forest, from where you invite peaceful migrates, through the 200 old trees. Gladly we give you tips for individual walks up on which you can detect easily the wonderful and outstanding panorama. Worth of seeing is our breath caching mountain village Korakades with its miracle-made picture behind the church, the church itself with its bewitching picture icons, ornaments and frescoes, and the hospitality of the old people, who never leave their houses.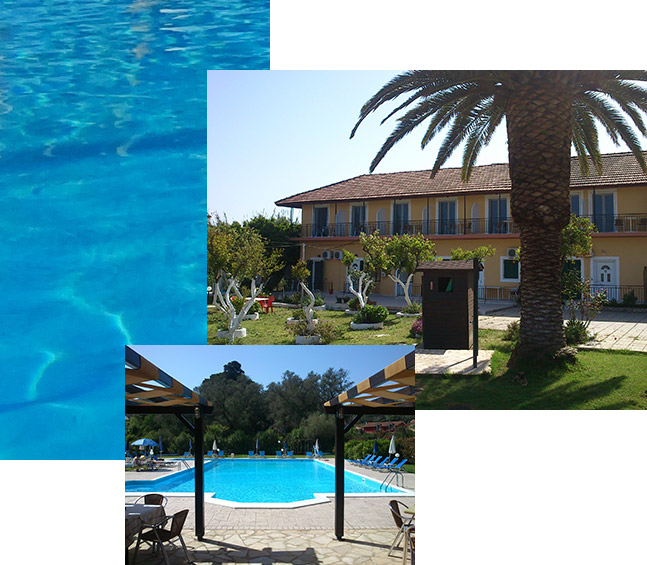 Our private pension is 50m away from the natural beach (where parasols are), and in a very quite position perfect for rest, where you can relax and regain power. When you are on holiday you do not seek only relaxation, you must take a tour to our beautiful island. We will gladly make you acquainted with a car or a scooter from the rental company.
Let yourself be bewitched by the blue lagoon, which we will gladly arrange for you with a tour by the boat from the mainland to the islands of Paxi and Antipaxi.
Pension Egrypos consists of double rooms and holiday apartments. All the rooms are equipped with all the necessities, easy arranged and all have very nice view to the sea. All the rooms have fridge, shower/WC and balcony. The holiday apartments are capacious and comprise of a bedroom, a parlour (extractable couches for children) separate cuisine, shower/WC, and terrace. The rooms are equipped with air-condition facility and are daily cleaned.
We place a great importance on the personal and familiar contacts with our visitors, and we are gladly very helpful.
If you still have any queries, we will be glad to answer them; moreover we exist in the guide books "Dumont" and "Marco Polo", where you can easily find us. We hope that your interest for Petriti is arisen and that you will gladly greet Egrypos.
Slacken from the stress that usually tourists have and enjoy our garden. Simply ask to bring you in the hands freshly harvested oranges, or rest plainly in the hammocks, in the pool or in the lower-case massage cabinets. Meanwhile your children amuse themselves in the children cabinet or in the playground.
You will find excellent amusement in the audit – and games – corner, for you and your family.
In the evening allow yourself a friendly atmosphere in our tavern, or a glass of house wine and a nice conversation by the pool bar. Spoil yourself with the original Greek and Corfiot gastronomic delicacies that are prepared with care and affection.
For the half pension (3 Course Menu) we offer to you with much effort a variety of home-made food like fresh fish that we daily catch in our coast. Also the vegetarians and those who suffer from allergies have no chance of not being satisfied.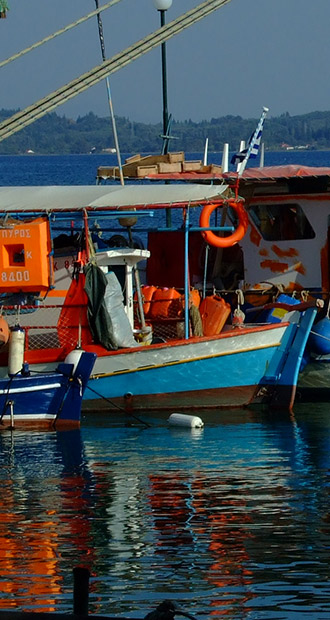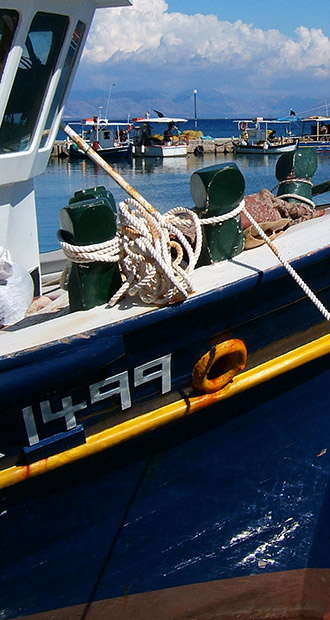 The origin of village reaches till the antique past. Almost all the inhabitants from today's "Petriti" have existed at that time in the mountain village "Korakades", and had their vine, fruit and vegetables fields and fishing boats in "Petriti".
For thirty years approximately Korakades was menaced by a landslide, for that reason you will be determined in Petriti to admit. You build your house in the side of the Mediterranean Sea, so your work becomes easier, as well as the work of a peasant or fisherman.
Today we still assemble our community in the church of Korakades for holiday weddings, baptisms and happy events.
Egrypos: At the beginning of the 14 th century, Egrypos was undertaken from the family of Petriti, which comes from the Tarauto/Italy and were great land owners. In the Egrypos harbor lay often the Venetian arm navy boats. Later, the place of the family Palatianos became a legend.
As of the 2014 season, we will now be able to offer you even on the same plot our comfortable holiday home. Our duplex house is newly built, offers space for up to 6 people, has a living area of 130 sqm and is generously and tastefully decorated. On the first floor there are 3 bedrooms, a large bathroom (with toilet, shower, bathtub and 2 sinks) and a large balcony with pool and sea views. The ground floor has a modern and fully equipped kitchen, a large living and dining area, a small toilet and terrace.
Description House:
a bedroom with a double bed
a bedroom with two single beds
a bedroom with a bunk bed
Mueckenschutz on all windows
Terrace and balcony with garden furniture
Bed linen and towels are provided




Hallo Maria, wir haben euch heute besucht und dich angetroffen. Es Waren doch nicht 10 Jagre her sondern wir waren im Mai 2009 bei euch. Im Gastebuch sind wir per Juni 2009 drin. Hat uns gefreut alles mal wieder zu sehen. Wir reden noch heute sehr oft von euch ..
Urlaub bereits zum vierte Mal bei euch. Es ist sehr schoen -wie Urlaub bei guten Freunden- in Petriti.Wir kamen dieses Jahr mit guten Freunden aus Deurschland auch die waren begeistert ab von jeglichem Tourismus bei euch Urlaub zu machen. Die Anlage mit den Orangenbaeumen, die wir morgens frisch pfluecken durften, sehr schoen. Der Pool, diie Bar alles tip top und auch der Service gut. Die Zimmer u Baeder renoviert. Die sehr nette Bedienung Maria, die Koeche im Hintergrund. Maria und Alexiz das Essen war wieder sehr gut. Fruehstueck von Efi und nicht zu vergessen den der alles organisiert -Toni vielen Dank. Wir kommen ganz bestimmt wieder lg auch noch an die Eltern
Danke fuer die schoene Zeit hier bei Euch in Corfu. Das Essen war super lecker und extra Essenswuensche wurden von der Koechin Maria gerne erfuellt:) Der grosse Pool wurde von allen viel genutzt und war auch sehr sauber, wie auch unser Apartment. Alle hier waren freundlich und immer fuer ein nettes Gespraech offen. Der abendliche Spaziergang durch den nahen Fischerhafen und am Meer entlang bot einen gelungenen Abschluss fuer den Tag. Es war wirklich eine superschoene Woche und wir werden das hier im momentan kalten Muenchen vermissen, wie auch die freche Welpin Tara. Familie Jakob ist begeistert 😉
Herzlichen Dank fur die wundervollen zwei Wochen bei Euch in Petriti: eine Oase der Ruhe – die herzliche Gastfreundschaft der Familie Kourtesi, wo wir uns sofort aufgehoben fuhlten – die wunderschone, gepflegte Parkanlage mit grossem Pool– all dies trug zu einem erholsamen undunvergesslichen Urlaub bei. Als viel gereiste Griechenlandkenner war fur uns ein absolutes Highlight Maria?s vorzugliche, abwechslungsreiche und phantasievolle Kuche! Halbpension ist sehr zu empfehlen. Wir freuen uns auf ein nachstes Wiedersehen. Esther und Wolfgang aus Basel

and we'll contact you as soon
as possible!

PENSION ADDRESS:
Egrypos Pension
Kourtesis family
49080 Petriti
Corfu Greece